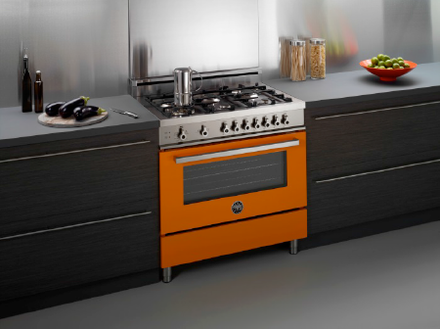 IN NYC, BERTAZZONI INTRODUCES NEW RANGE LINEUP
In NYC, Bertazzoni Introduces New Range Lineup for the North American Market.
At the Architectural Digital show in New York, March 21-24, 2013, Bertazzoni announced its new range lineup for the North American market. Valentina Bertazzoni, brand manager and sixth-generation family executive for Bertazzoni, was onsite to share the news of the new vitamin color – "Arancio" as well as innovative new features and competitive price points for the Professional Series, Master Seriesand Heritage Series. A star in the lineup is the new "Arancio" Professional Series range, a stunning orange color, inspired by the foods of the Emilia-Romagna region where Bertazzoni manufactures all of its products.
Bertazzoni also introduced six innovative new features in its line of high-quality ranges including beautiful brass burners, increased BTU power to 18,000, precision control gas values, new soft motion door hinges, new ergonomically stylized handle and new telescopic glide racks. For the first time, Bertazzoni now offers its manual dual-fuel models at the same price point as its gas models. The availability of dual-fuel performance has also been expanded across the Bertazzoni line for all self-clean models.
For Bertazzoni Heritage Series fans, Bertazzoni infused the latest technology and advanced cooking features with the same classic vintage look. For those who love the Bertazzoni's Built-In, the line now has Built-In specialty ovens as well as even more accessible price points. Finally, Bertazzoni also offered a sneak peak at its first, free iPad app, available in May 2013 for distributors, dealers, architects and interior designers.
Stay tuned for more on Bertazzoni's trip to NYC and photos from the show!